Virtua Health - as far as you need to go for nationally recognized spine surgery.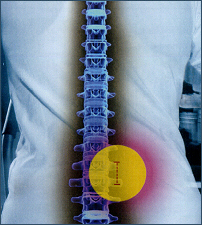 Regina Connell of Boothwyn, Pennsylvania, was recovering from herniated disc surgery at Virtua Marlton Hospital when the phone rang. It was Virtua neurosurgeon Tariq S. Siddiqi, MD, co-director of the Virtua spine program, who had operated on Connell just hours before. "Hi Regina, it's Dr. Siddiqi. I wanted to see how you were feeling." Stunned, Connell took the phone away from her ear and looked at her husband sitting next to her.
"Since I live right outside of Philadelphia, my husband was adamant that I go to a hospital close to home," says Connell. "But, I was wary of going to a Philadelphia teaching hospital as I heard that interns or residents often perform surgeries under the direction of the physician.
At Virtua, the surgeon whom you meet prior to surgery is also the one who performs it the day of surgery. "This was my first time having surgery so it was important to me that my surgeon be involved from the beginning to the end," says Connell. "When Dr. Siddiqi called after my surgery, I knew I had made the right decision."
Coming to terms with surgery
Fifty-year-old Connell considers herself an avid exerciser. When she's not running eight to 10 miles every other day, she's taking aerobic classes at her local gym. But last October, while going for a jog, Connell felt a stabbing pain that shot all the way down her left leg. It didn't help that she had a 40-minute drive to work. "I remember sitting in traffic and crying on the way to work every morning," says Connell. "The pain was so unbearable." Connell tried medication for relief, but nothing seemed to work. That's when Connell started thinking about surgery.
Innovations in spine surgery
Minimally invasive surgery for spine disorders has been used for decades. But, with new technology, it has become even less invasive. Today we use tools known as less invasive surgery (LSI) instruments that decrease the incision length, provide surgeons with a better field of vision and allow surgeons to insert bone grafts or perform a spinal fusion without having to make another incision. This helps preserve healthy muscle and tissue, reduce blood loss and cause less scarring.
Multidiciplinary approach to care
What also sets Virtua apart from the competition is its multidisciplinary approach to care. "We have a spine council at Virtua that meets once a month to review patient charts and discuss the latest technology for spine care," says Dr. Siddiqi. "The council also implements performance improvements so we are always providing patients with the best care." Virtua orthopaedic surgeons also work closely together during surgery. Patients meet a team of physical and occupational therapists the day after surgery to get them up and moving.
Faster return to normal activities
Because Dr. Siddiqi used a less invasive approach to Connell's surgery, she was out of work for only one month as opposed to the six- to 12-week recovery time that traditional surgery requires. In fact, she was up and moving the day after surgery and went home the following day. Today, she is getting back to her workout routine. "With the help of Virtua's physical therapists, I've even learned that exercises like swimming and walking will keep my back healthy and strong."
DISCLAIMER: Information provided on this website is for educational purposes only, and is not a substitute for advise you would receive from a qualified medical professional familiar with your specific medical history.